The first beta version of the Tweet Fader plugin for WordPress is released!
Tweet Fader is a plugin that will add a widget to display your latest tweets one by one. The Tweet Fader widget uses JQuery's fade in/out effect to display single tweets. It's a clean and simple look integrated in your WordPress theme.
Download the Tweet Fader plugin here.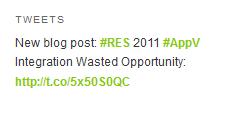 For more information please check Tweet Fader page under Tooling.
A live demo is available here under the header "Tweets" in the sidebar.